Join Monica the Medium (star of the Freeform original series and author of "Messages from Above: What Your Loved Ones in Heaven Want You to Know") as she shares her spiritual and personal life experiences, delves into a variety of topics and tips, chats with guests over wine, and channels messages from above! Episodes are released at random, so be sure to subscribe. To learn more about Monica visit her website www.monicathemedium.com and follow her on social media (@MonicatheMedium).
Episodes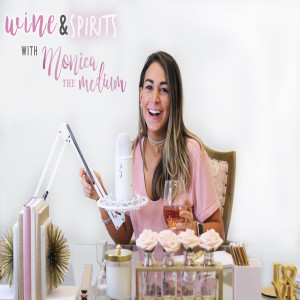 Wednesday Dec 26, 2018
Wednesday Dec 26, 2018
In this episode, Monica gives two back-to-back surprise readings! So many healing messages are shared...and just in time for the holidays <3
---------
Monica's first book is out now! Messages from Above: What Your Loved Ones in Heaven Want You to Know is available in ebook and paperback on Amazon, BarnesandNoble.com, and other online retailers. The audiobook (total run time: 9 hours 13 minutes) is narrated by Monica and available on Amazon, Audible, and Itunes (Apple Books). The hardcover and signed copies are available exclusively through Monica's online store. 
Monica's Website: https://www.monicathemedium.com 
Follow Monica on Social Media: @MonicatheMedium
This podcast does not have a set schedule, so remember to subscribe so that you're notified when new episodes are released! And if you enjoyed this episode, please leave a rating and a review for Wine & Spirits within the Apple Podcasts app!